Formwork (shuttering), centering and scaffolding are temporary works built for carrying out the construction of buildings.
Formworks are used for structures such as:
1. Columns of any shape (rectangular, circular, etc.),
2. Beams and slabs,
3. Stairs,
4. Walls,
5. Foundations.
The cost of these temporary works is a good percentage of the total cost of the concerned construction. Hence, considerable planning should be done in their design and use.
To bring down its cost, we should plan for many reuses of the equipment in building construction. With more reuse of these types of equipment, the cost comes down.
The present trend in big cities for carrying out these works is to entrust the work to a subcontractor who owns these types of equipment and specializes in these types of work.
When undertaking works such as concreting, brickwork, plastering, erection of prefabricated members, it is necessary to install some works to carry loads temporarily or to give access for workmen to the works.
These are called temporary works.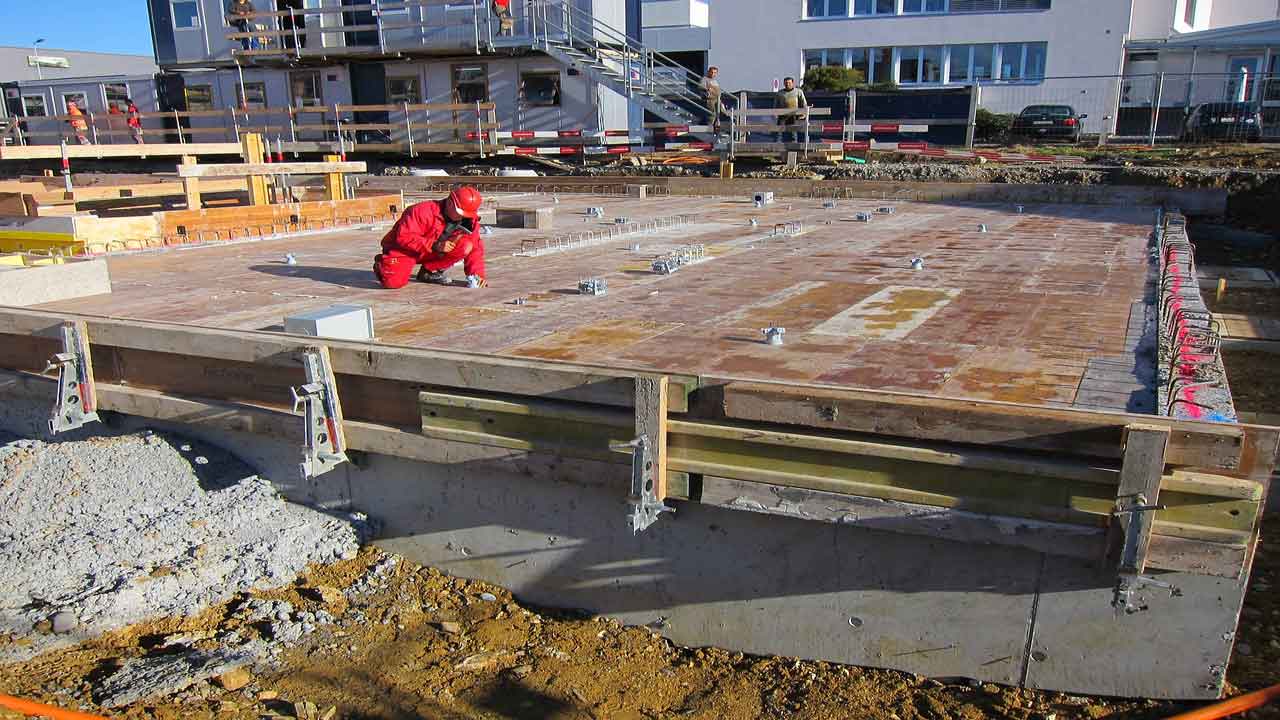 Such temporary works are indispensable for the success of any project and form a good part of the cost of the structure.
That's why every civil engineer should have some knowledge of the types of temporary works that are used in practice.
Centering, formwork, scaffolding, and shoring are the principal types of temporary works.
In this article, we will briefly examine their use in building construction. Appropriate temporary works are needed for the safety of the workers.
There are many types of temporary works.
Temporary work used for the construction of arches is called centering. (This term is also used loosely for supports of formwork for concreting.)
The temporary works used as a mold in which fresh concrete is poured for it to harden is called formwork or shuttering.
Temporary works erected for construction of masonry works, plastering, painting, etc. is called scaffolding.
Temporary supports used to prop up buildings for repair are called shores, and such works are called shoring.
In this article, we will briefly deal only with the Shuttering or Formwork for concreting.
Types of Formwork for Concrete.
Formworks can be grouped into three types, namely elemental, standard, and special.
1. Elementary type of formwork.
In this type of formwork, each element of the temporary work is not more than about 30 kg and doesn't require more than two men to lift each unit.
These components are joined together to form temporary works.
Thus wooden planks, steel panels, etc. (for formwork), wooden beams, light open web steel trusses, etc. (for horizontal members), ballies (bamboos or jungle wood) or adjustable steel posts (for vertical members) can all be joined together to form the temporary work.
2. Standard formworks.
These are standard elements up to 70 kg requiring up to three persons or cranes to lift them. They have been standardized for different types of works.
3. Special formwork.
Formworks such as slip forms, moving forms, special formwork for water tanks, which require jacks, cranes, etc. to move them around, come under this class.
i. Slip forms.
For the construction of structures such as tall cylindrical chimneys or rectangular/circular towers for water tanks, it is very important that there should be no weak construction joints, which may separate during high winds and cyclones.
Stage-by-stage construction of heights not more than about 2 meters using ordinary formwork, with carefully treated construction joints is the conventional system in non-cyclonic areas.
Modem continuous concreting without joints by using slip forms are nowadays insisted on in important works in cyclonic areas.
Slip forms are continuously moving formwork (slipping along the poured concrete). The entire assembly of formwork is moved by jacks, on jack rods located within the cast concrete.
The movement is such a slow rate that the exposed concrete below the formwork attains the required strength to withstand all the loads that come on the concrete at the time it comes out of the formwork.
The concrete should also be so designed that it attains the required strength between the time it is compacted in the formwork and the time it emerges out of the formwork.
The usual speed of movement is the order of 15 to 25 cm (6 to 10 inch) per hour. The frictional force between green concrete and specially treated steel forms is taken as about 0.4 t/m2.
These slip forms can be straight slip forms, tapered slip forms or forms for special applications such as for blocks of flats, bridge piers, etc.
The special advantages of these constructions are that there will be no weak construction joints and the concreting can be well controlled as the rate of pour doesn't need to be very high.
Such work gives a very accurate, economic, and aesthetically pleasing work.
It is important to note that the work of concreting should be arranged to take place all the 24 hours of the day start to finish of the structure.
Continuous jacking arrangements are also needed.
ii. Moving forms.
Moving formworks are those which can be moved from one place to another.
When constructing the floor of a framed building over already constructed columns in a multi-bay building, the formwork can be constructed for a limited number of bays.
After setting and curing of the poured concrete, the formwork can be lowered vertically down and then moved horizontally to other locations to cast other bays.
Such formworks are called moving formworks.
When casting chimney or water towers vertically, forms which are moved vertically by jacks after each separate stages of concreting, setting and curing of concrete to higher locations are called jump forms.
Types of Formwork Based on Material.
1. Timber.
As we have already seen, temporary works for concreting include the formwork or shuttering as well as the scaffolding or centering.
One should always remember that these works should be constructed in such a way that removal of formwork can be done easily as planned.
The materials and sizes of timber usually used for the different parts of the temporary works are given in Tables ##11.1 and ##11.2, respectively.


A discussion of normal works of height less than 3.5 m and span less than 4.5 m is given further.
Nowadays, for formworks, special types of plywood (with water-resistant bonding agents) or steel are extensively used.
Plywood's panels are formed with 100 x 25 mm dressed timber backings nailed with short and thin nails up to 150 to 250 mm centers.
When using thin plywood's (4 to 10 mm thick), they are given a solid backing of timber nailed along the four edges and intermediate outside surfaces.
The edges of plywood sheets being joined are tacked to the same backing board to ensure a smooth joint. When using intermediate thick plywood (10 and 16 mm) also, they are nailed to a skeleton backing of dressed timber.
Thicker plywood (20 mm) can be nailed directly to cross pieces at a maximum spacing of 450 mm. For spacing larger than 450 mm, skeleton backing will be required.
Centering:
Round poles and bamboos are extensively used for propping and centering. Bamboo and similar poles should not be used for heights or lengths exceeding 3 meters unless they are properly braced.
In no case, one should use round wooden poles of diameter less than 100 mm at mid-height and 80 mm at the thin end.
The maximum permissible spacing should be 1.2 meters center to center. The pole should rest on square wooden sole plates or base plates of 40 mm thickness and minimum area of 0.1 sq.m. (1ft x 1ft).
Double wedges should be provided between the sole plate and the wooden props to facilitate tightening and easing of shuttering without jarring the concrete.
Brick masonry pillars of the adequate section are also used instead of props. In such cases, wooden sole plates must be provided at the top of pillars and double wedges inserted between the sole plate and bottom shuttering.
In building construction, the base concreting of the ground floor is recommended to be completed before the upper floor or roof is concreted.
This will provide a firm base for the centering to be erected for the construction of the floor or roof above.
In constructions where lateral stability is to be ensured by the presence of already cast columns and peripheral beams, only light bracing between the vertical props are required.
However, in situations where there is no proper lateral restraint as in large panels of floor to be cast along with beams (or slabs built in quick succession with beams), special care should be given to the lateral stability of the system.
Inclined shoring from outside together with strict watch over the programming of pouring concrete (so that as little of eccentric loading as possible is produced) should be exercised.
There are case histories of accidents where this possibility of lateral instability was forgotten.
As already remarked, when constructing multi-story buildings, the normal props for first floor slabs should be provided.
Usually, for the slabs above the first floor (top floor slabs), support in line with the props is given to the supporting floor also by the floor immediately below the supporting floor.
Planks should be provided at the top ends of these props to give an even distribution of load. Usually, the floors to be used for support shall not be less than 14 days old after complete curing.
In case of balconies and cantilever beams placed one above the other, the propping should be such that the load is distributed to at least two completed floors below.
Before concreting, all the props and wedges should be checked.
During concreting, at least one carpenter or fitter must be readily available at the site to keep a constant watch over the supports so that the props and wedges do not get loose during the concreting.
On removal of shuttering, the loads are transferred to the concreted structure.
Removal of forms in structures such as domes and shells should be so programmed that the order of loading on the finished structure is safe.
Symmetrical removal gives a better distribution of these loads. ##Figures 11.2(a), and ##11.2(b) show temporary works used for a concreting column, a beam and slab construction, respectively.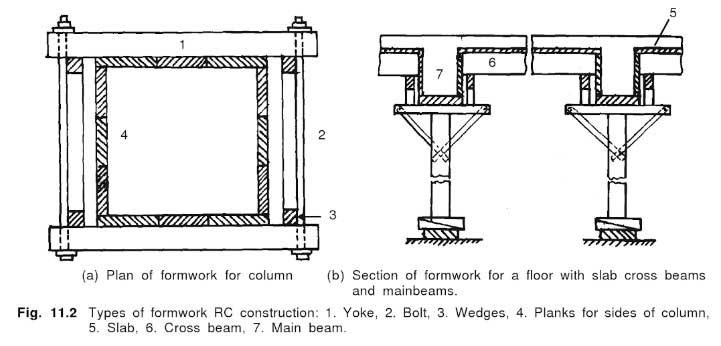 2. Steel Proprietary Systems for Formworks.
There are many proprietary systems of steel formwork generally consisting of panels made up of steel sheet and light steel angle framing, in sizes that can be easily handled.
Special telescopic units for beams which can be easily removed, props with adjustable ends designed to facilitate easy erection, etc. are available in the market.
In general, they are so designed that they can be formed into horizontal and vertical frameworks, which is very stable against lateral movements.
These systems must always be erected according to the manufacturer's details.
Surface Treatment of Shuttering.
The surface of wooden shuttering that comes into contact with concrete should be well treated before concreting. In all cases, adhesion of concrete must be prevented.
The surfaces should also facilitate plastering. They can be done by any of the following ways:
1. Coating with a soap solution prepared by dissolving yellow soap in water to get the consistency of paint.
2. Coating with raw linseed oil or other "form oil" of approved quality. (Unapproved oils should not be used.)
3. Coating with special form coating compositions available in the market.
4. Provided with a material such as polythene sheet.
These formulations should be removed from the underside of slabs (ceilings, etc.) immediately after removal of formwork and hacking of the underside of slab carried out soon.
Otherwise, the bonding of plaster to the ceiling will be very poor, and special treatments may have to be carried out later to ensure good bonding.
Lost Shuttering.
Lost shuttering is left with the cast concrete and not removed and reused after concreting.
It is a valuable device when holes are to be left in members such as slabs which later may or may not have to be filled up with special devices.
In such cases, steel mesh of close spacing, which can retain the aggregate, lines the holes.
The mesh retains wet concrete and offers a rough key surface for the subsequent pours without the need for scabbing or other surface preparation.
The technique in a modified form is used in countries where labor is costly in removing and re-oiling temporary formwork.
Precautions in Formworks.
Several fatal accidents have happened due to faulty formwork, faulty method of supporting them and wrong order of concreting the work.
Therefore, one should always be watchful to properly design temporary works and make them vertically as well as laterally strong.
Lateral strength of vertical supports, especially when concreting large areas, should be given special consideration in the design of formwork.
There are several cases of failure where the lateral movement of formwork while concreting is not envisaged.
Even though in large cities and towns in the world, where work is in plenty, the use of steel formwork is becoming more and more popular, a large part of the work away from towns is still done in traditional timber formworks.
Lateral Pressures on Formwork.
The magnitude of lateral pressure on formwork from the fluid concrete depends on many factors such as its consistency, rate of concreting, degree of vibration, etc.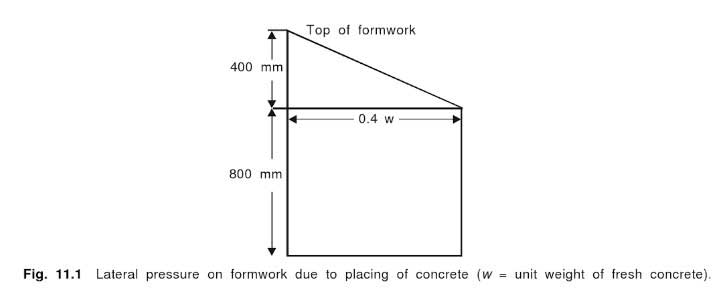 One of the commonly adopted pressure variations with depth is as shown in ## Fig. 11.1.
It has a linearly varying hydraulic pressure from zero at the top to 0.4 W newtons per sq.m at 0.4 m below the top, where W is the weight of concrete in N/m3 ##(Fig. 11.1).
Another practice is to take pressure as liquid pressure due to concrete poured in 3/4 to 1 hour only as by then, the concrete below that level would have set and became solid.
Thanks for reading this article. Please, don't forget to share it.
Read More: Construction Specifications; Its Types, Importance.