Yurts are amazing structures with a rich history. They're so fascinating that nomadic cultures like Mongolians from the steppes choose to make them their home. Nowadays, you can find these structures in suburban areas closest to nature.
Most designs offer an aesthetic that lets them blend near trees and bodies of water without looking too out of place. Accordingly, many commercial and private property owners have turned to yurts to earn a decent profit while providing people with a place to stay.
Unlike traditional tents, yurts are currently one of the most favored lodgings for campers and sustainable homeowners. Hence, they have excellent revenue potential if you're looking to start a business.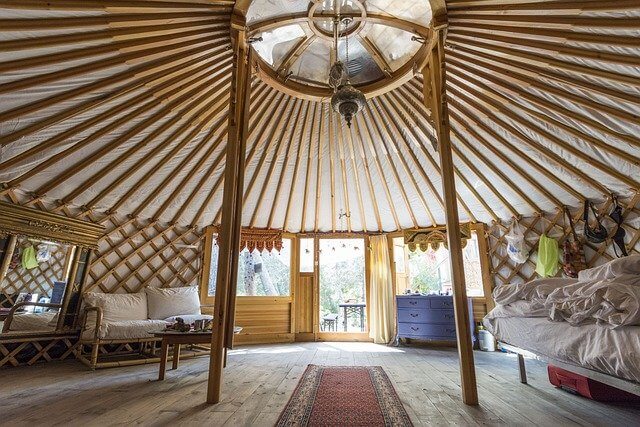 6 Reasons to Use Yurts in Lodging Business
Take a look at why you should consider investing in a yurt:
1. Comfort And Safety
When you picture a tent, chances are you'll conjure up a thin sheet of cloth held down by a few pegs. That's not the case with a high-quality yurt. Thanks to their durable materials, both traditional and modern yurts provide safety for their dwellers no matter the season.
Yurts are fabric tension buildings that protect you from the elements—heavy rain or loads of snow. Strong winds can't blow away a sturdy yurt from a reputable manufacturer.
If you install it correctly and follow the instructions, you can have a heavy-duty portable structure you can use any time of the year in any climate.
You or your potential guests will also be safe from intruders and wild animals. Modern yurts have doors with locks for added protection and privacy.
Meanwhile, the canvas sheet cover hides the yurt's lattice frame. So, it'll take a significant force for anyone or anything to break or pry through.
2. Value For Money
What sets yurts apart from other structures intended for lodging is their affordability. Compared to building a cabin or guest house from scratch, you don't need too many materials for your yurt.
A manufacturer will provide you with most of the essential parts you need. However, extra add-ons may ramp up the cost. Nevertheless, you can save significantly because yurts aren't taxed like permanent houses.
Staying in a yurt is also considerably cheaper than lodging in a hotel for leisure or business. You'll find no lack of interested people looking for affordable transient accommodation when you have a yurt.
Similarly, you can benefit from having a yurt as a remote office or vacation home without overspending.
3. Easy Set-Up
Despite their complex features and designs, yurts are pretty easy to install anywhere that allows them. You won't have much difficulty setting it up, even if you're inexperienced.
Dismantling the yurt is also pretty uncomplicated. It may only take you half an hour or more, depending on the size and number of parts. You could even lessen the time spent by having a friend or two help you.
Because it's easy to set up and dismantle yurts, transferring them to a different location is a breeze. Some yurts are movable even when already erected. This valuable trait makes yurts favorable among glamping businesses since they can relocate the structure in case of better spots.
The yurt's impermanence also reduces foundation failures and severe changes on the ground that could significantly impact the environment, thus making them eco-friendly, too.
4. Open For Amenities
There's a good reason why millennials prefer staying in yurts when camping or touring the wilderness. Yurts offer what hotel rooms and other lodging houses don't, which is proximity to nature without sacrificing domestic amenities.
You can put typical home facilities into a personal or business yurt, such as couches and tables, and larger ones like beds and cooking stoves. In truth, many modern yurts allow for water and electricity installation.
So, you can make your yurt guest-friendly with working faucets, toilets, and lighting. Wi-Fi isn't an issue, either. Simply install a router as you would in a traditional home to have access to the Internet.
Furthermore, yurts are easily customizable. You can decorate yours with as many or as few pieces of furniture and fixtures as possible. Many private and commercial yurts provide the comforts of home.
And mind you, they don't look like a simple camper's tent out in the woods. So, whether you're staying in one for rest or work, it won't feel like you've left home.
5. Various Available Designs
Like traditional tents, yurts come in various shapes, sizes, and designs. You're more likely to find one suitable to your taste than none. Most modern glamping yurts are dome-shaped or have conical roofs, much like their predecessors.
Others have A-frame roofs, like a typical house, giving that homey feel. Depending on your preferences or the aesthetic of your lodging business, there should be a yurt for you.
6. No Shortage Of Uses
Yurts are highly-convertible into any dwelling you choose. You can turn one into a cozy home for long-term or short-term living or a workable home office free from distractions. If the yurt is in a tourist-friendly location with a fantastic view, it'll be perfect as glamping accommodation for families or small groups of friends.
Even if you don't intend to make it part of your lodging business, you can still earn revenue by converting the yurt for other purposes like a fitness studio, food stand, or retail shop. You'll find a use for yurts to house the service you wish to provide.
Conclusion
When it comes to modern camping, yurts should be your top pick. Today's campers desire safety, aesthetics, and home amenities while enjoying the outdoors.
Starting a lodging business with a high-quality fully-furnished yurt near hot spots could attract potential tourists all year round.