Our bathrooms are one of the most essential rooms in our homes. They are where we start and end our days. A good bathroom should be a relaxing oasis away from the hustle and bustle of everyday life.
But often, our bathrooms can feel cramped, cluttered, and just plain small. If your bathroom could use a little more space, you might need to invest in a renovation project to make it feel more open.
Of course, this is not a decision that you can just take lightly. After all, renovations are expensive. Read on to learn how you can make the most out of a bathroom renovation to make it worth your time and money.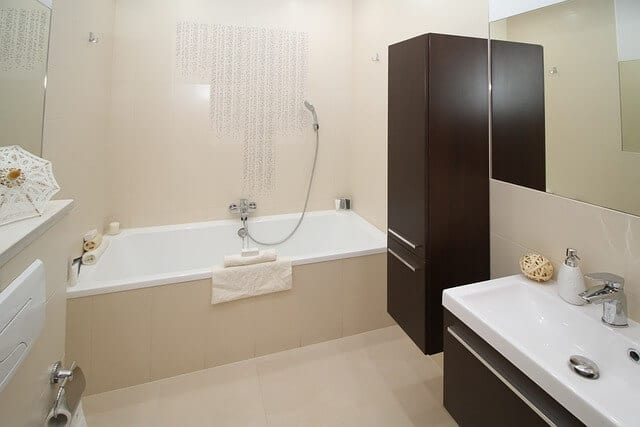 Renovation Tips For a More Spacious Bathroom
Bathroom renovations are an enormous task and can be pretty costly, but if you take the time to do your research, you can find ways to save money.
Here are a few tips on how to make your bathroom more spacious without breaking the bank:
Tear Out Any Unnecessary Walls
One of the quickest ways to instantly add space to a bathroom is by removing unnecessary walls.
If you have a small bathroom, chances are one or two walls could be removed to create a more open floor plan. This will also allow more natural light to enter the space, making it feel larger and brighter.
Change the Tile Color
Changing or updating the colour of your bathroom tiles can also make a big difference in the overall feel of the space.
For example, if you have dark tiles, consider replacing them with a lighter colour to brighten the room. Conversely, if you have light-coloured tiles, you could try going for a darker shade to create more visual interest and depth.
Update the Fixtures
Another easy way to change the look of your bathroom is by updating the fixtures. This includes things like the faucet, shower head, towel racks, and light fixtures.
If your bathroom fixtures are old and outdated, it can also make the whole space feel dated. You can also remove unnecessary fixtures that take up space, such as a medicine cabinet or a second sink.
This way, you can free up some counter space and make the room feel more open.
Rearrange Fixtures in Your Bathroom
One of the things that make bathrooms crowded and uncomfortable is the way that the fixtures are arranged.
If everything is crammed into one corner, it can make the room feel much smaller than it actually is. If you spend on a renovation project, you can try one that will focus on rearranging the fixtures to provide more space.
This might mean moving the toilet to another wall or changing the layout of the sink and counter area.
If you want to save time and money, make sure to talk to a professional about the best way to rearrange your bathroom fixtures.
They will be able to help you create a more efficient and comfortable layout that will make the most of your space.
Replace Existing Fixtures
If rearranging fixtures does not work for you, then another option is to replace them entirely.
This could mean replacing an old, inefficient toilet with a new, low-flow model or getting a new showerhead that uses less water.
When you replace fixtures, you can also choose more space-saving options to help make your bathroom feel more open.
For example, wall-mounted sinks and toilets are an excellent option for small bathrooms because they do not take up any floor space.
If you have the opportunity to gut your bathroom and start from scratch, this is the best option for you.
These are just some ways to make your bathroom more spacious without breaking the bank.
Renovating your bathroom can be a big project, but it does not have to be expensive. With some planning and creative thinking, you can find ways to save money and still get the results you want.
When Is It Time To Renovate a Bathroom?
As a homeowner, you may feel your bathroom is cramped, outdated, or simply not meeting your needs.
But how do you know when it's time for a renovation? Here are four signs that indicate it might be time to renovate your bathroom:
Your Family Has Outgrown the Space
If you are constantly tripping over toys or stepping over laundry baskets, it might be time to renovate your bathroom. A renovation can give you the extra space to keep your family organized.
You're Tired of the Same Old Look
If you're tired of looking at the same old tile or paint, a bathroom renovation is a great way to give your space a fresh look.
Just make sure that spending money on a renovation will make your bathroom more appealing and efficient at the same time.
Otherwise, by using colourful curtains, you can settle for minor changes like changing the light colour or adding a pop of colour to your bathroom.
You Want to Increase the Value of Your Home
If you plan to sell your home soon, a bathroom renovation can help increase its value. Renovating a bathroom is one of the most cost-effective ways to add value to your home. This is because potential buyers are willing to pay more for a well-maintained home.
You Need to Make Accessibility Improvements
If you or someone in your family is disabled, you may need to renovate your bathroom to make it more accessible.
Renovations include adding grab bars, widening doorways, and installing a walk-in shower. These improvements can make your bathroom more comfortable and functional for everyone in your family.
Your Bathroom Needs repairs
If your bathroom needs major repairs, like a new roof or plumbing, it's probably time for a renovation.
Putting off these repairs can only make the problem worse and may even lead to dangerous situations like flooding.
Renovating your bathroom will not only fix the immediate problem but also prevent future problems from occurring.
Now that you know when it's time to renovate your bathroom, the next step is to start planning your renovation.
The best thing you can do is to approach a professional contractor who can help you make your vision a reality. Companies like Designing Interiors can help you in every step of your bathroom renovation. With their help, you can achieve your dream bathroom with little to no hassle.