Your property consists of more than the interior of your home. If you have a fair-sized backyard, now is the time to make some upgrades to improve your outdoor living space.
You can make it more fun or relaxing – or both! Spend time with family and friends while enjoying pleasant weather or use it as an alternative workspace.
If you're looking to make your outdoor living space the place to be for entertaining family and friends, here are some ideas that you can try to make it shine.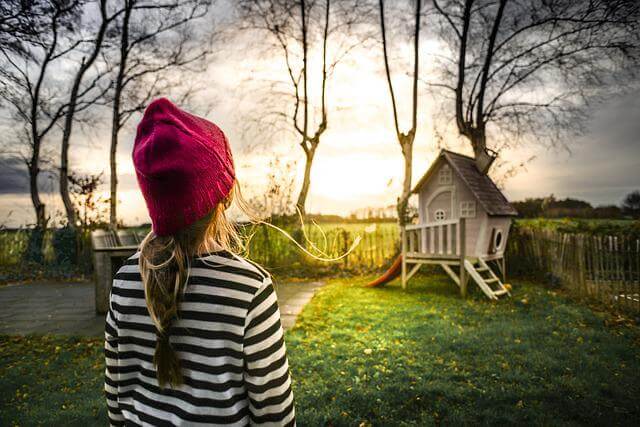 1. Build A Composite Deck
Building a deck for your home is beneficial because it'll serve as a place for both lounging and entertainment.
Decking has many uses, such as a hot tub surround, raised garden, or outdoor dining area. It can be anything that'll serve the needs of your home.
Choose to build a composite deck instead of a traditional wooden deck. It has more advantages, such as less maintenance.
Composite materials also come in different colors that you can use to complement the rest of the home. It's also made of recycled materials that are good for the environment.
2. Set Up A Backyard Playset Or Playground
Encourage your kids to play outdoors with a playset. It's a good way for them to get some sunshine without having to venture away from your home. You can build them a treehouse, playhouse, or fort.
Kids today like spending time on electronics, but you can entice them to be active with a playset that'll allow them to play and bond with their siblings and friends. It's one of the best ways to enjoy themselves after school or do homework.
3. Try Adding A Vacation Vibe
If you can't leave home, why not enjoy a staycation instead? You don't have to spend on hotels and bars when you can add a specific ambiance to your backyard.
You can build a fireplace or fire pit when your family or friends enjoy gathering around when it's chilly. Warmth is a source of comfort where your loved one can gather around to spend time telling stories.
Add some stressless dining chairs. They are perfect for those who have back pain or other physical discomforts. These chairs come in a variety of styles and colors, making them an ideal addition. Have a look at stressless dining chairs at European Leather Gallery.
Also, you can add a collection of exciting greenery to your outdoor living space. Look into hotels that use foliage indoors and outdoors for inspiration.
Your yard will also look good with low-maintenance plants with interesting shapes, colors, and textures.
4. Erect A Gazebo
Imagine a swimming pool, and plants and trees surround a beautiful gazebo next to it. Inside is where you place lounge chairs, a coffee table, and window treatments.
But even if you don't have a pool, it's still a charming addition to the backyard, where you can house a spa, use a potting shed, or use it as a fitness area.
Gazebos have many uses, and you can build them as small or large as you need them. It has a multi-purpose if you want it to be as well. You can use perspective projection to plan your gazebo how you'd like it.
5. Make A Greenhouse
One of the best outdoor activities for plant lovers is gardening. You can install a greenhouse and make it in whatever size you want, even in the heart of the city.
For those living in modern apartments like the nema apartments san francisco ca, you can still indulge in the joy of gardening. With innovative solutions and creative ideas, you can create your own mini greenhouse right inside your apartment. The nema apartments, known for their contemporary design and spacious living areas, provide the perfect setting for incorporating gardening into your urban lifestyle.
You can choose to get a prefabricated greenhouse made of metal or wood. These greenhouses are easy to integrate into your outdoor living space and allow you to bask in nature while managing your plants.
Modern greenhouses also come in various designs that'll fit your gardening needs. They can be box-like or resemble a shed.
You also have the choice to make it as elaborate as you want. Add chairs and a table to turn it into a sunroom.
Furniture makes it a good breakfast room as well. To get an idea of making a greenhouse, look for greenhouse plans or designs that fit your backyard.
Integrating a chicken waterer into your backyard setup can offer numerous advantages when it comes to outdoor living projects. A chicken waterer ensures that your flock has a constant supply of fresh water, promoting their health and well-being.
Whether you're building a chicken coop or designing a backyard oasis, incorporating a chicken waterer is a practical and efficient way to meet your feathery friends' hydration needs. With various types of chicken waterers available, such as automatic or gravity-fed options, you can find the perfect fit for your outdoor project.
Don't forget to prioritize the comfort of your chickens by including a reliable and convenient chicken waterer in your outdoor living space.
6. Create A Waterfall
Building an artificial waterfall can make your outdoor living space into an inviting oasis. It's also good on sloping terrain. You can add rocks and arrange them where the water will be gushing out.
In fact, you can do research and see what materials you'll need. Having landscaping techniques helps too. Be sure to use the water pump appropriate for the size of the waterfall you'll make.
7. Build a Wet Bar
Enjoying summer drinks with your family or hosting a party for your friends can be more fun if you have a wet bar.
It's an ideal feature for summer days and nights when you want to hang out by the pool or have dinner outside.
You can add a bar cart and a freezer for your favorite drinks that anyone can enjoy. It also makes an excellent complement to an outdoor kitchen if you have one.
Conclusion
When you feel that your outdoor living space could be more, choose any of the projects mentioned. You'll need to make considerations such as the size of your area.
If you have a great lot, you can gradually build whatever your heart desires. The important thing is to make a space that'll enable you to enjoy the outdoors.