Here in this article you'll be able to understand, that what is Firebrick / Fire Brick or Refractory Bricks. I hope that you will learn everything related to Fire Bricks.
Definition of Fire Brick.
This is a separate group of bricks which is capable of with standing at high temperature without losing its shape or size and without reacting with other materials. It is used for making inner walls of high temperature Industries or Factories etc.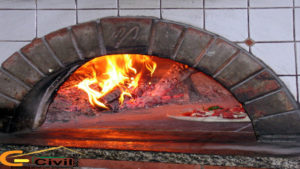 Classification of Fire Bricks.
The firebrick are classified on the basis of their reactivity towards melting at high temperature.
(a.) Acidic Bricks.
They are resistant to the melts of basic composition ( but will react with the melts of basic composition ).
(b.) Basic Brick.
They are resistant to the melts of basic composition. Hence they will not be suitable for use in those furnaces where acidic melts are being heated.
(c.) Neutral Brick.
They are non reactive to both the acidic and basic melts. Hence their applications is in heating either type of melts. Examples: Chromite brick, Chrome Magnesite Brick.
Manufacture of Fire Bricks or Refractory Bricks.
They are manufactured in the same manner as a building Brick. The four stages are involved in their manufacture process are:
Moulding
Drying
Burning
Cooling
The Raw Materials are first crushed in to the required size and then blended are mixed thoroughly in the presece of required quantity of water. After this process Brick are moulded manually or by using Machines such as "Presser". The moulded Bricks are dried and then burnt in a very high temperatures, generally between 1600 to 2000 Centigrade. After this Process they are allowed to cool very gradually.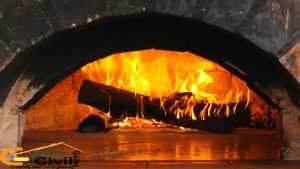 Description of important Fire Bricks or Refractory Bricks.
(a. ) Fire Clay Bricks.
These constitute are an important class of refractory materials of acidic group. Raw material for its manufacturing can withstand at very high temperatures without fusing or softening. Such clay are often available under the coal layers in nature.
Silica ( 65-75 Percent) and alumina (25-35 Percent) are the two main constituents of Fire Clay. They are free from impurities like oxides of calcium, magnesium and iron. The maximum permissible upper limit for all such impurities is 5 Percent.
These are manufactured in a manner similar to the common building Brick. The selected clay is crushed to the fine powder and moulded into the brick unit. These are than dried and burnt in Continuous kiln at very high temperature ( 1600 to 1900 centigrade ). They are cooled gradually before taking out from the kiln.
Types.
They are divided into three types on the basis of temperature.
High Duty. (1482 to 1648 Centigrade).
Medium Duty ( 1315 to 1481 Centigrade)
Low Duty (870 to 1314 Centigrade)
Properties.
They have high resistance to spalling, high bearing capacity and low coefficient of thermal expansion.
Uses.
They are commonly used as a lining material in steel making furnaces and reverberatory furnaces.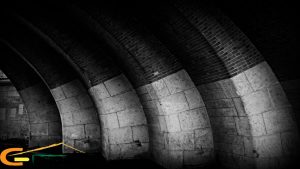 (b.) Silica Fire Bricks.
These are made up mostly of silica, which may range from 95 percent or above. The remaining material is generally calcium oxide that act as binding agent.
These are acidic in character. Their raw materials is pure quartz (SiO2), or sandstone of high silica content.The moulded unit are burnt in about 1500 Centigrade. They are extensively used in Bessemer Converter as lining material because slag in that case are acidic in nature.
(c.) Magnesite Fire Bricks.
They are classed among the basic refractories. There raw material is magnesium oxide. The major source for it is Dolomite rock.
(d.) Bauxite Fire Brick.
They also form a very important class of Basic Refractories. They are made from the rock Bauxite ( Al2O32H2 ) which are mixed with some clay (Fire Clay type ).
(e.) Chromite Fire Bricks.
They are belong to the neutral class of refractories. Raw material used for these Fire Bricks is a mineral called CHROMITE. The mineral is double oxide of chromium and iron in its composition. These types Refractory bricks are capable of resisting both the acidic and basic environments in a furnace. These type of fire brick are commonly used in the steel making furnaces.
Thanks! for reading out the whole article. If you like it than please share it with your friends.