What is Crane:
Crane is a powerful and heavy machine which is used for lifting, lowering of heavy objects, machinery etc with the help of cables and pulleys. They are mostly used in heavy constructions and manufacturing of heavy equipment industries.
There are several types of cranes used in constructions depending on the type of work.
Cranes are the most important part of mega project constructions and heavy industries. Actually, they made our work too easy, due to them we don't need to lift any heavy objects or lower it. They did our all hard works in less or no time.
Now we can work anywhere with the help of cranes, we can work in the middle of seas, in sky rising building with very ease.
Benefits of Cranes:
Cranes have several benefits. They can offer enhanced safety in the construction and heavy equipment industry.
In most cases, manually lifting or lowering heavy objects around the construction site may expose workers to the risk of accidents. But with the help of cranes on the site, workers can safely lift and lower objects, thereby reducing the likelihood of injuries.
However, it's important to know that cranes have lifting accessories and components that need to be checked to ensure they're working properly.
An Australian lifting company, Stenhouse Lifting, suggests that your crane should use high-quality lifting and safety equipment and accessories to keep your site and workers safe.
They also suggest that on-site inspections be conducted to keep your equipment well-maintained and compliant with safety standards.
Furthermore, cranes are cost-effective. Instead of hiring more workers who will have to stay at the job site longer to finish the project, construction companies can use cranes to streamline their work.
Given their lifting and lowering capabilities, jobs will be completed right away without paying workers for extra time, thereby making a construction business more cost-effective.
Different Types of Cranes: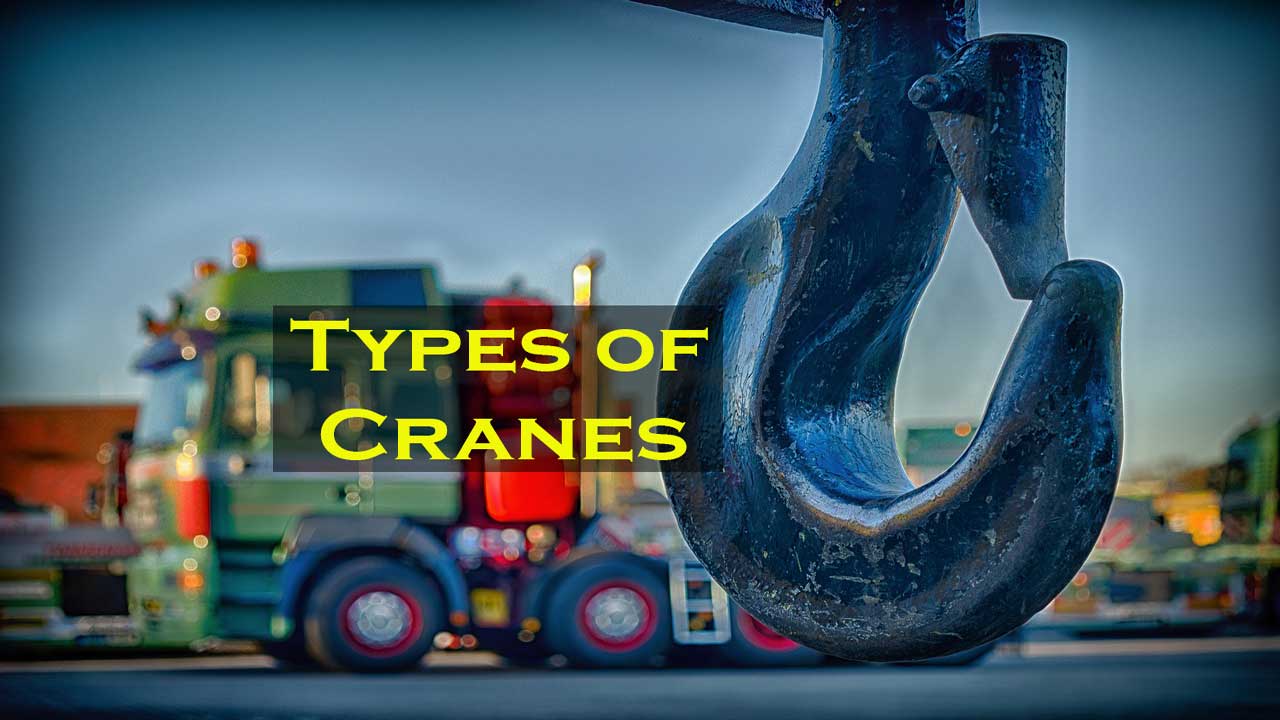 Cranes are useful in construction sites or workplaces that use heavy equipment.
However, it's essential to know that there are several crane types used for different works in different places.
Getting familiar with these crane types can help you determine which one will work best for your industry.
This way, you can get the most out of the crane's specific capabilities or functionalities while ensuring efficiency and safety.
Here we will discuss the following crane types in details. So Let's move on.
Floating crane.
Telescopic crane.
Harbor crane.
Crawler crane.
Rough terrain crane.
All terrain crane.
Truck mounted crane.
Level Luffing crane.
Rail road crane.
Telescopic handler crane.
Aerial crane.
Tower crane.
Floating Crane:
It is also called crane ship, crane vessel or floating crane. It is mostly used in offshore construction and they are specialized in the lifting of heavy loads. They can also be used to load or unload ships or lift sunken ships from the water. They are fixed and therefore can not be rotated. They have a large capacity of about 9000 tons.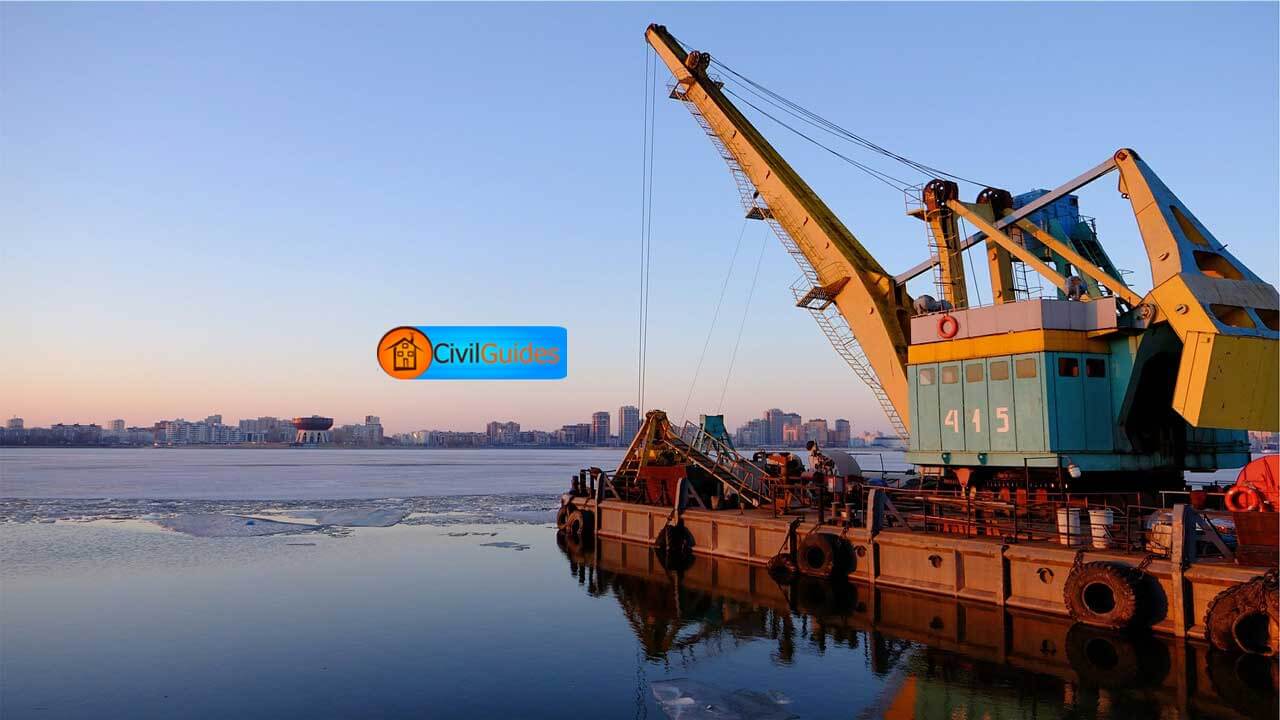 Telescopic Crane:
Telescopic crane consists of a large boom in which some numbers of tubes are fitted inside with each other. It increases their height with the help of tubes through the hydraulic mechanism.
They are especially used to transport goods from one place to another. When it comes to transferring the object to a high place, Telescopic cranes are the best. Because they can adjust their heights according to the place. They can also be used in rescue operations.
Read More: What is Bearing Capacity of Soil? & How to improve it?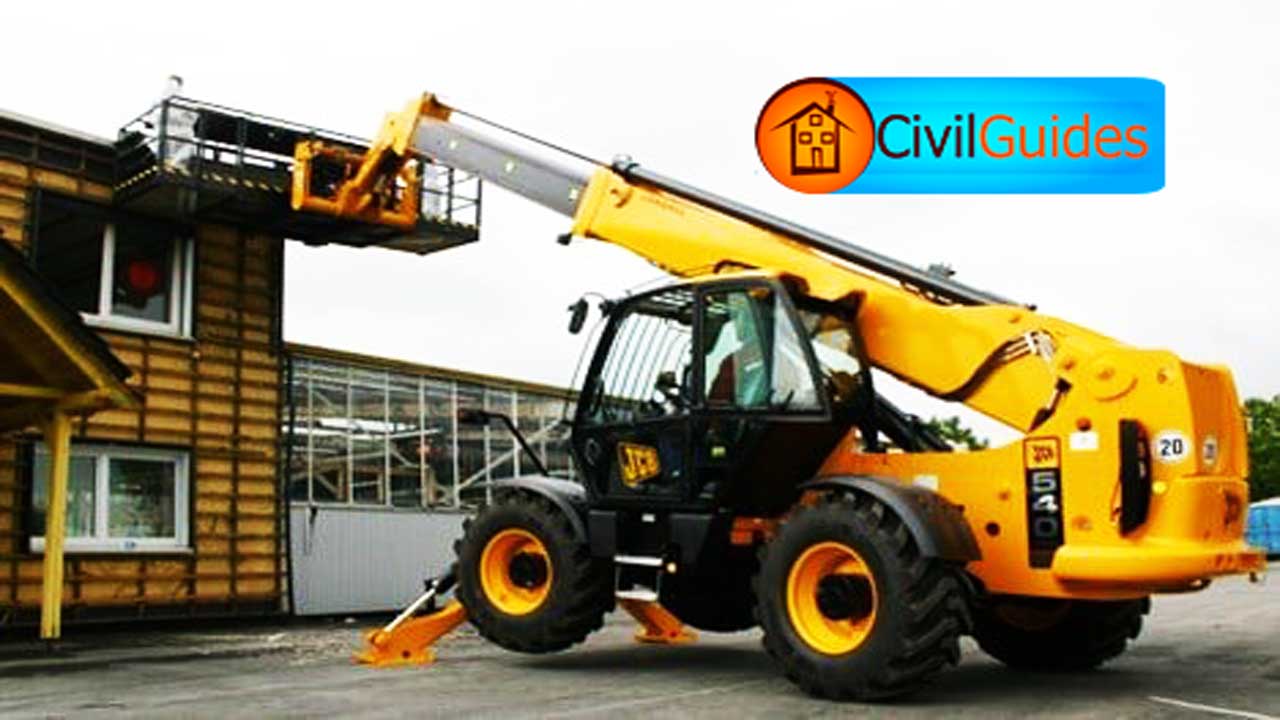 Harbour Crane:
It is also called mobile harbour or port harbor crane. It is mostly used in sea ports to unload or load the ships. The flexibility of the machine makes it easy to use it at any place. Its main advantage is, that it is among the powerful material handling cranes. Which means that materials will be transported from one place to another safely and with ease.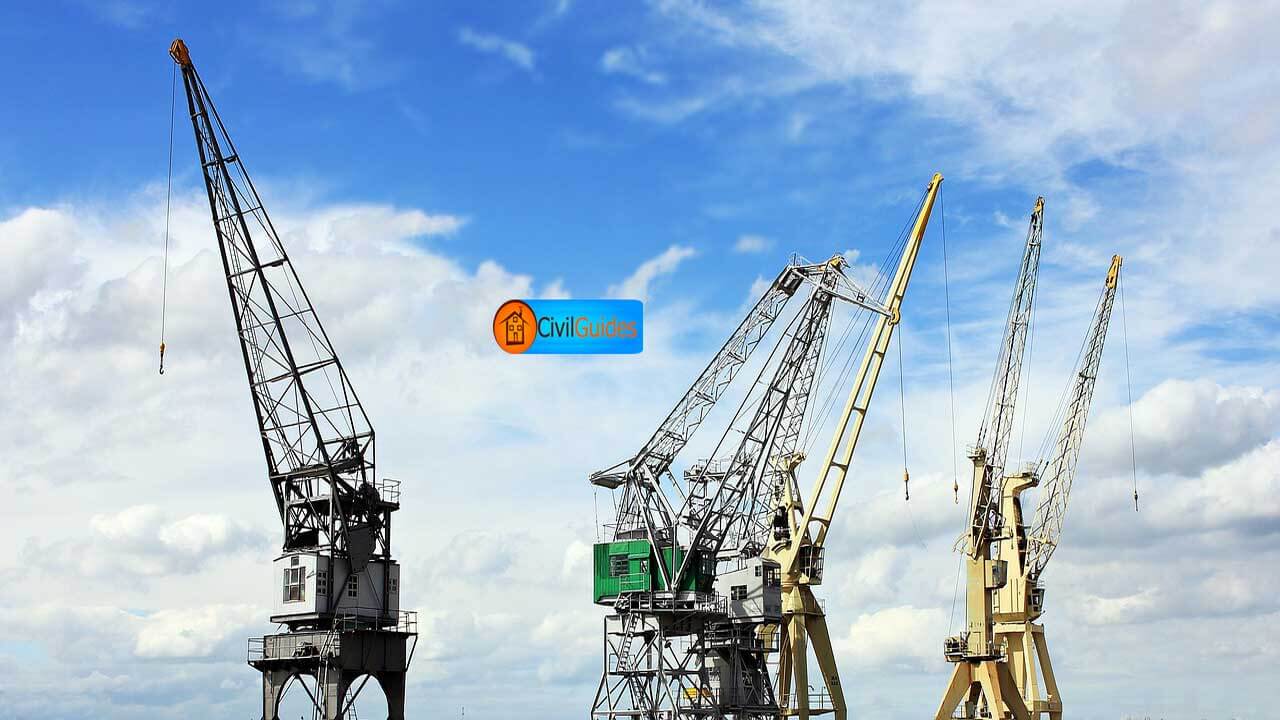 Crawler Crane:
Crawler crane moves it self with the help of tracks which is also called crawlers. It has many advantages and disadvantages depending on their use.
Their main advantage is that it can move mostly on any surface of the earth it can even move on soft soils due to its crawlers. Because it transfers its load to a great area. That's why it can be used at unprepared sites without worrying about anything.
And their main disadvantages is that it is very heavy and move on tracks. That's why it can not be moved easily from one site to another and will cost more money.
But it can be moved by trucks easily and without costing much money.
Read More: Water Cement Ratio – Definition, Calculation, Complete Guide.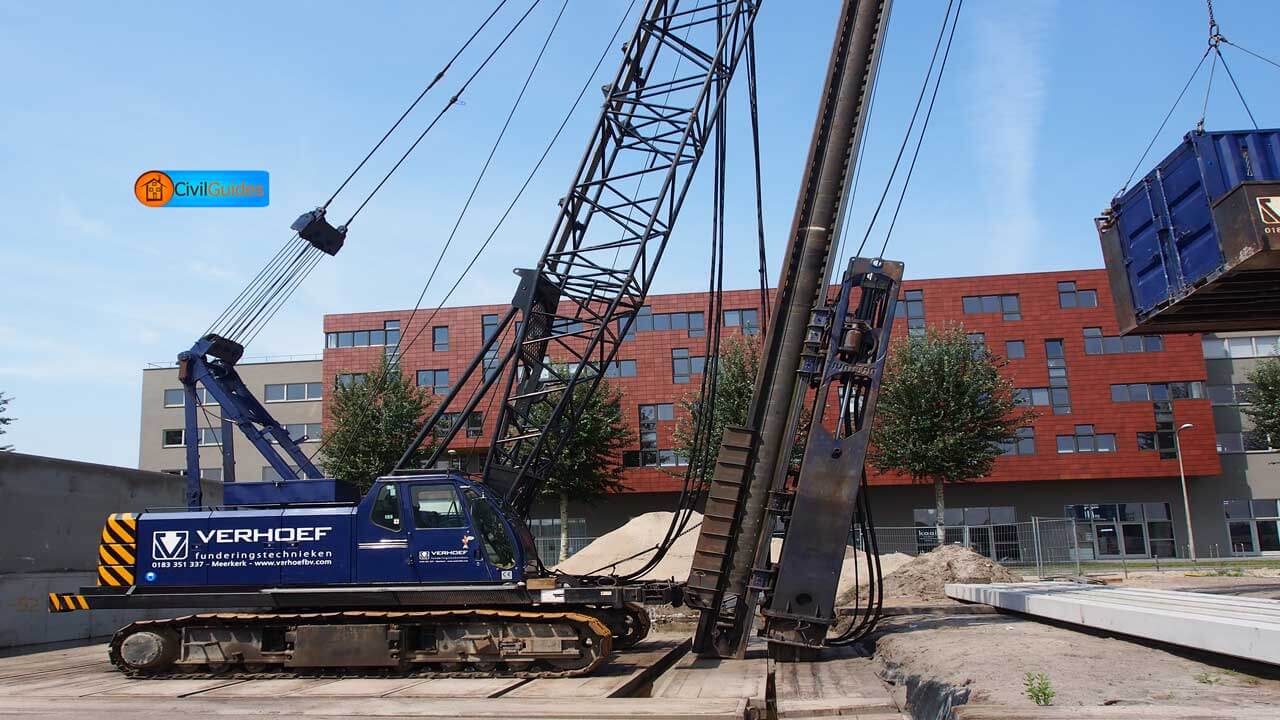 Rough Terrain Crane:
Rough Terrain Cranes are mounted on the four rubber tires. They are mostly used in off road applications. Outriggers are used for stabilizing the crane while working. They contain only one engine which means that same engine is used for undercarriage and crane.
A normal vehicle mounted crane can not be used in off road constructions. That's why rough terrain cranes are used.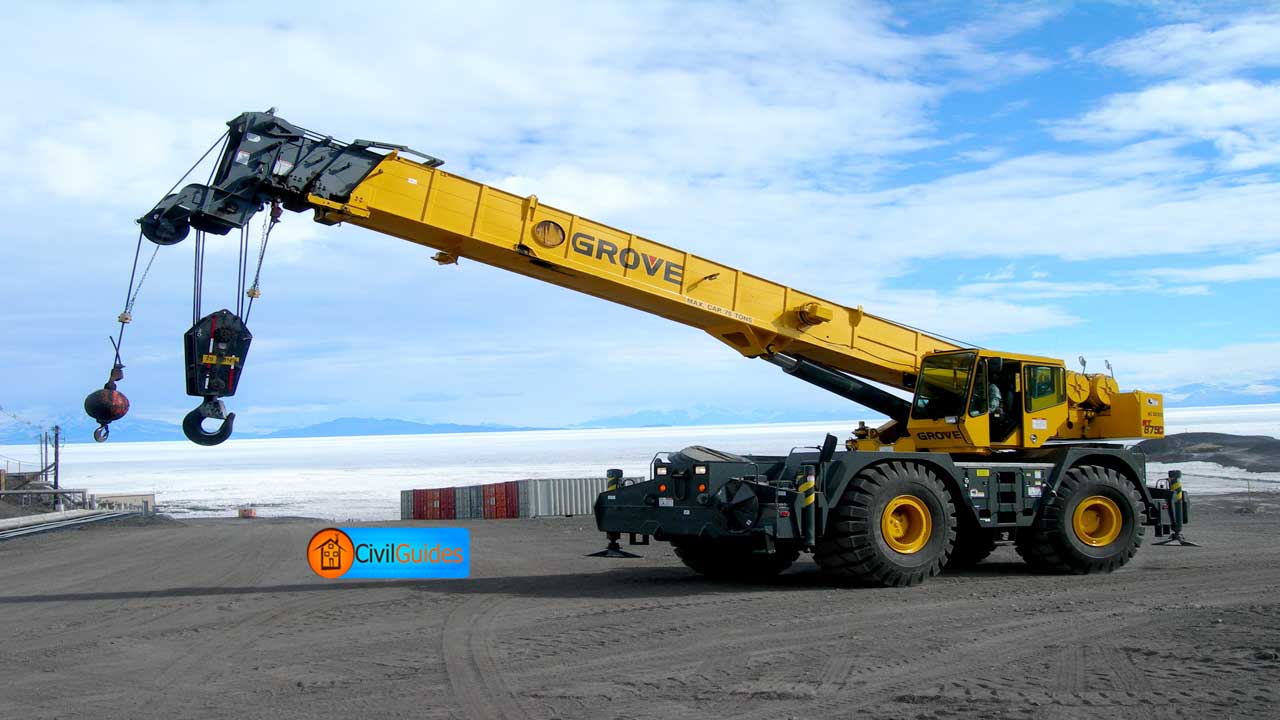 All Terrain Crane:
It is in that types of cranes which can travel at the same speed on the public roads as well as on the off roads. They also consist of more tires than rough terrain cranes.
The main difference between rough and all terrain crane is that. Rough terrain usually travels on off roads not on public roads, while the All terrain can be used in of both applications.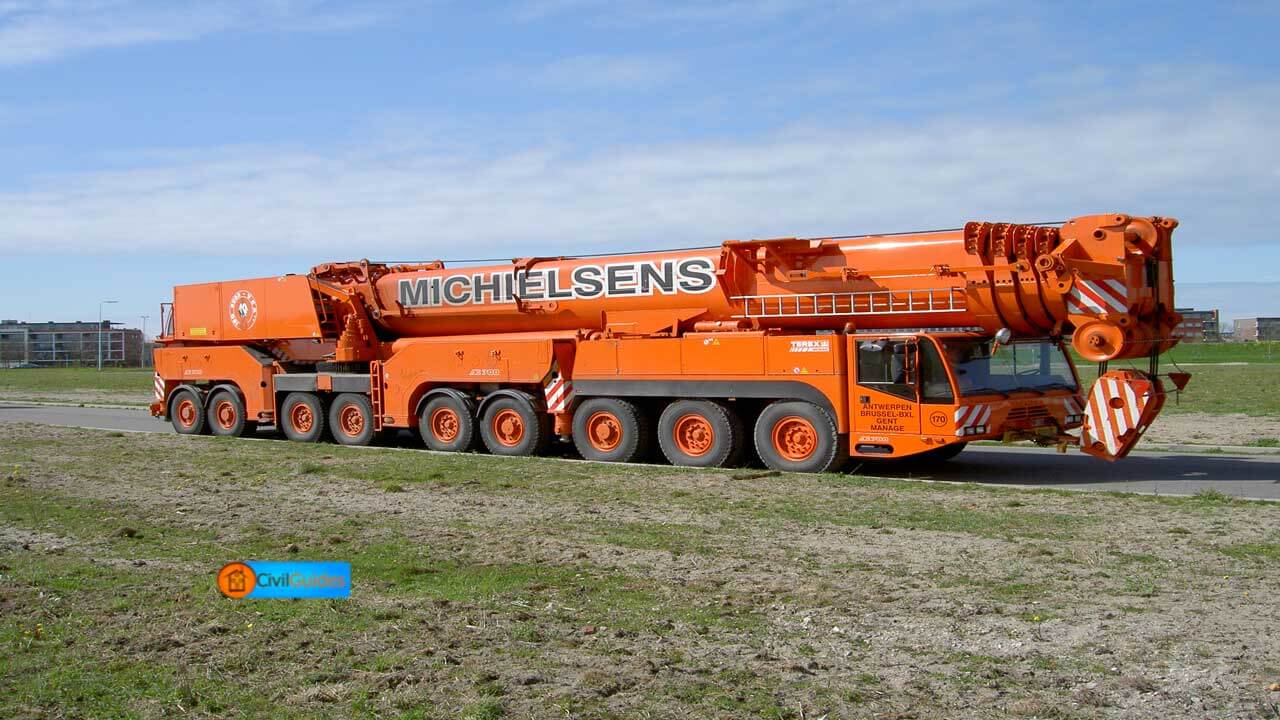 Truck Mounted Crane:
It is in that types of cranes which have one engine. It means that same engine is used for undercarriage and as well as for crane. They are mounted on a rubber tires truck, which provides great mobility. Outriggers are used to stabilize the truck by extending it horizontally or vertically.
Its main advantage is that it can travel on highways itself, which makes it easy and less expensive. It does not need any other vehicles to transport it.
They can be rotated up to 180 degrees. But some of them rotate up to 360 degrees but these are more expensive.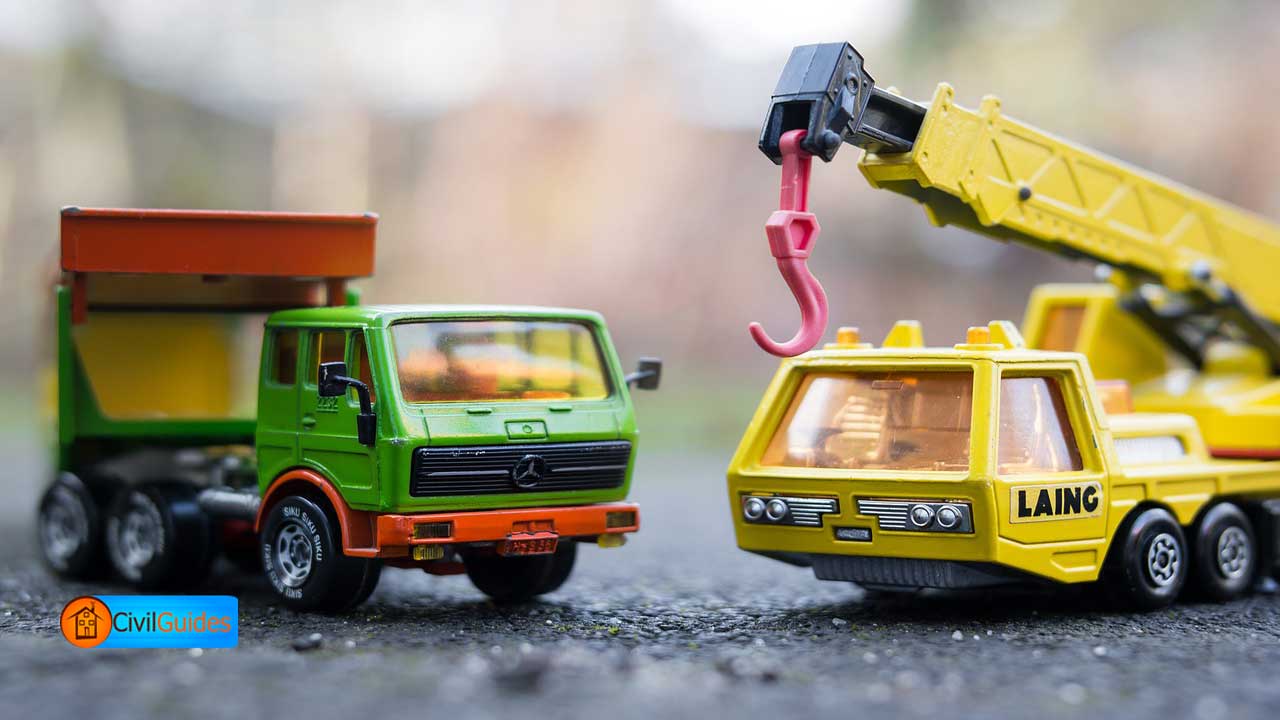 Level Luffing Cranes:
They contain a hinged jib. In level luffing crane, the hook remains at the same level. While they move the jib up and down. It is usually used for unloading and loading the ships with containers.
Careful movements are required while moving the jibs near the ground level.
Read More: Concrete Slump Test – Definition, Types, Procedure.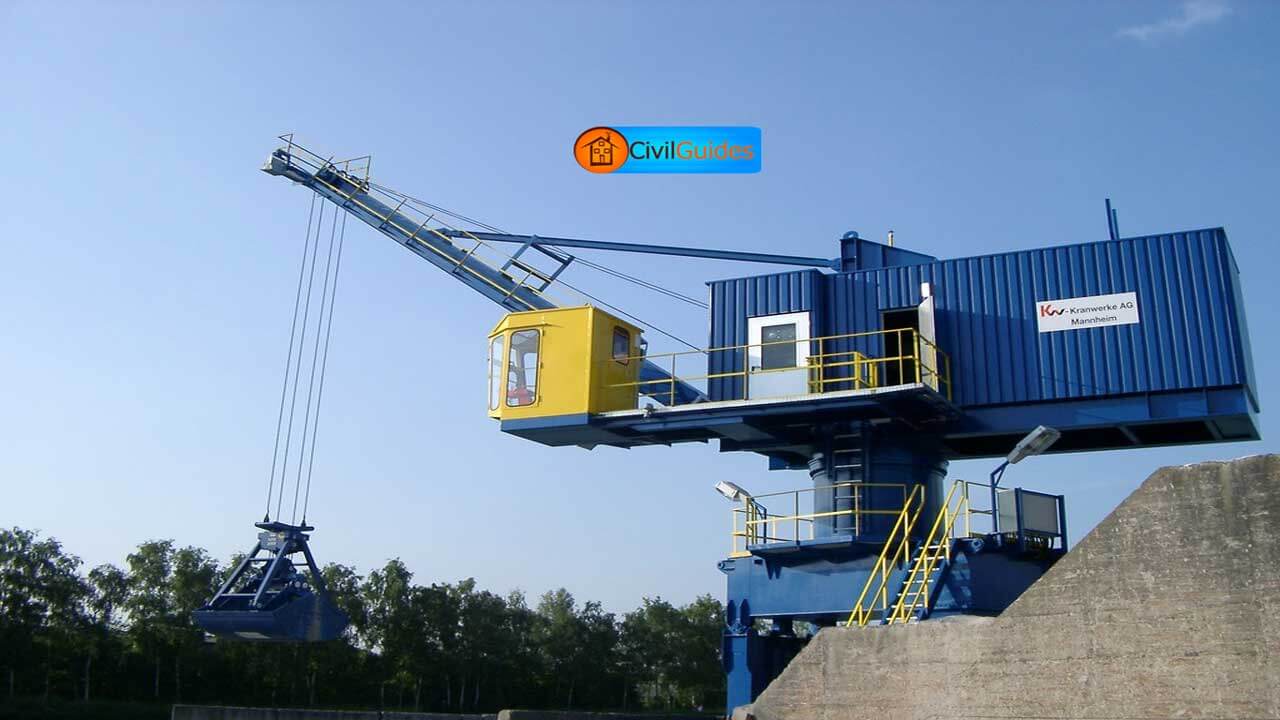 Rail Road Cranes:
These types of cranes move on the railway track. Rail Road Cranes are used for the construction of railway lines, maintenance and for their repairing. They can not travel on roads or any other place except railway tracks due to its flanged wheels.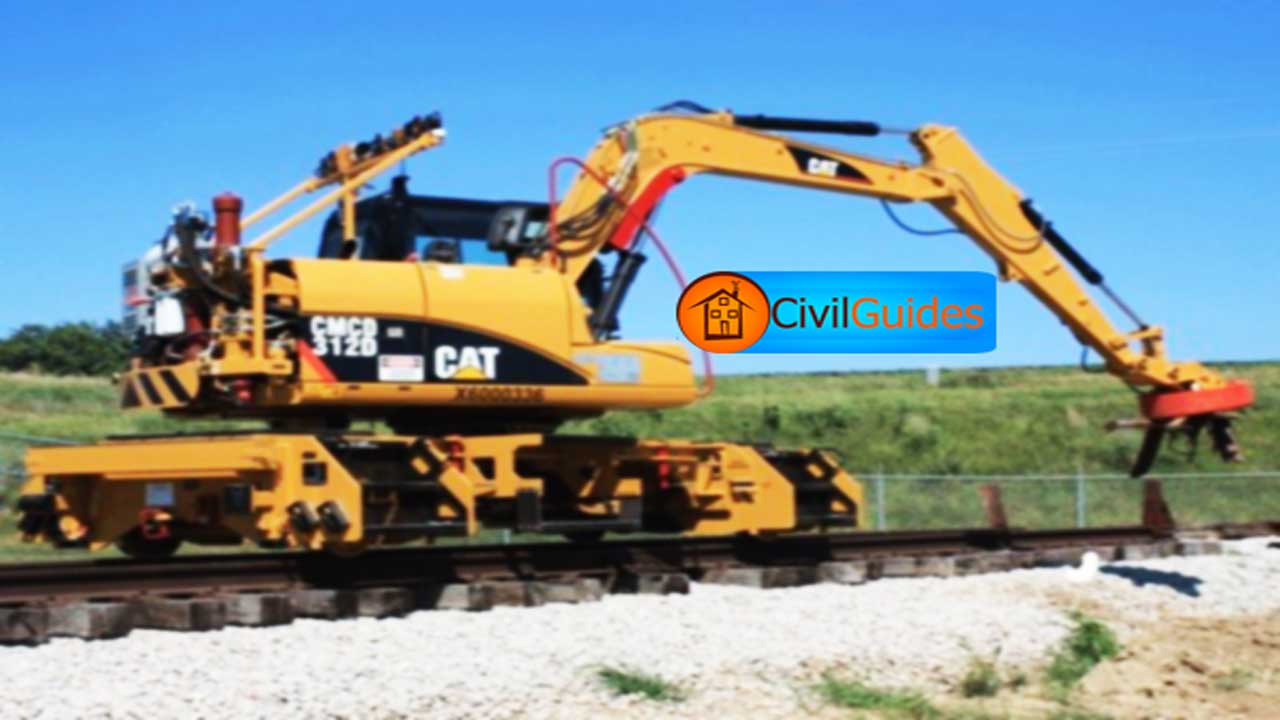 Telescopic Handler Cranes:
They contain a telescoping extend-able boom like crane. Their main purpose is to handle Bricks pallet and install frame trusses in buildings. They are designed too simple to improve workability. They can rotate up to 360 degrees and also have outriggers to maintain its stability. They look like forklift trucks.
Read More: What is Ferrous and Non-Ferrous Metals, Their Definition List and Properties.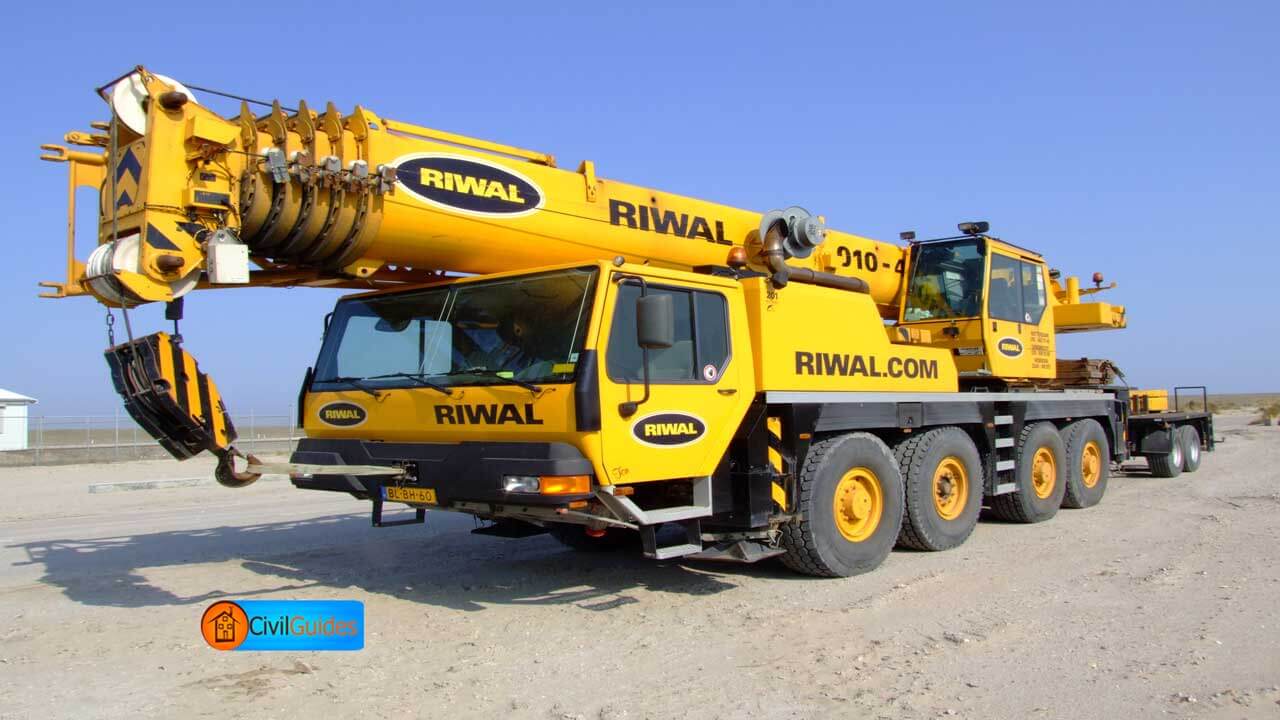 Aerial Cranes:
These types of cranes are also called Sky Cranes. They look like helicopters and used to carry large loads. They are used mostly in that places where reaching by land is difficult. And as all of you know that Helicopters fly which means they are capable of reaching any place.
They usually lift loads to high rise buildings. They can lift anything in their capacity from boats, cars to pre-made swimming pools. They can also be used for rescue purposes in disaster.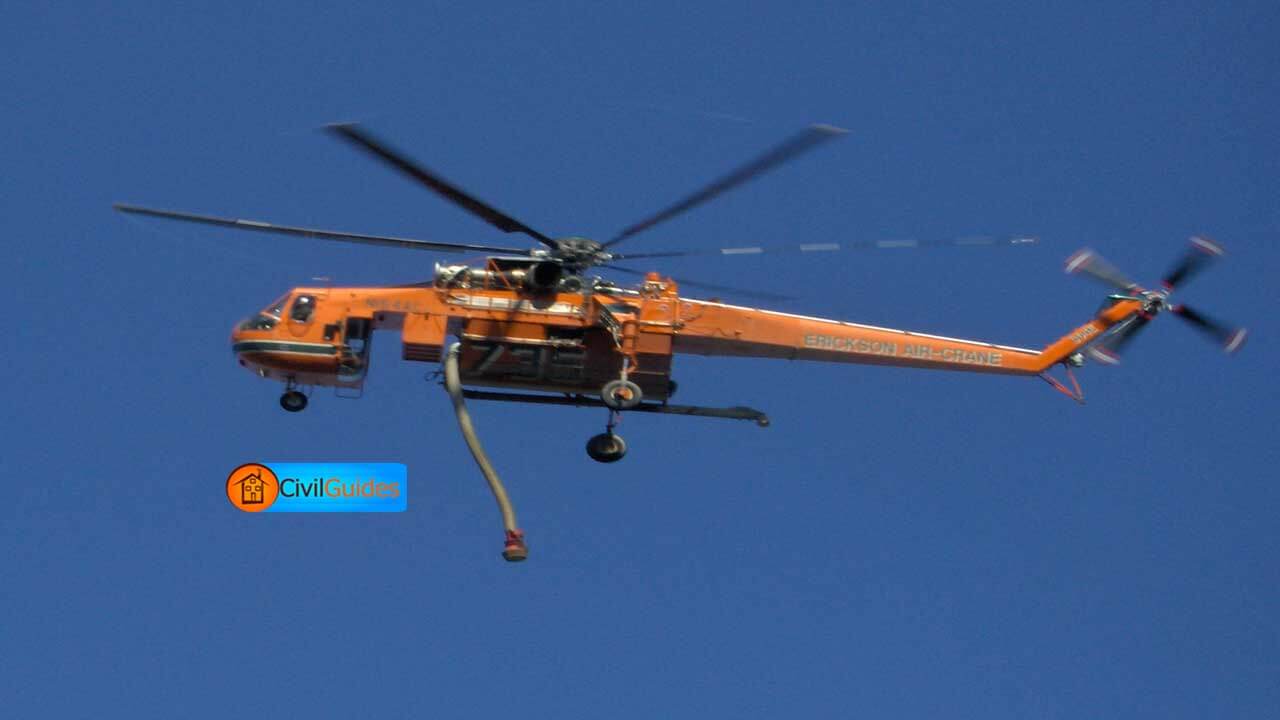 Tower Cranes:
These types of cranes are the mostly used cranes in today's world. Usually, they are fixed to the ground in concrete or attached to the side of structures. They are used mostly in the construction of tall buildings.
They can left load up to 20 tons approximately and work up to 256 feet height approximately. The operators of the crane mostly use radio and hand signals as a medium for communication to hook or unhook the load.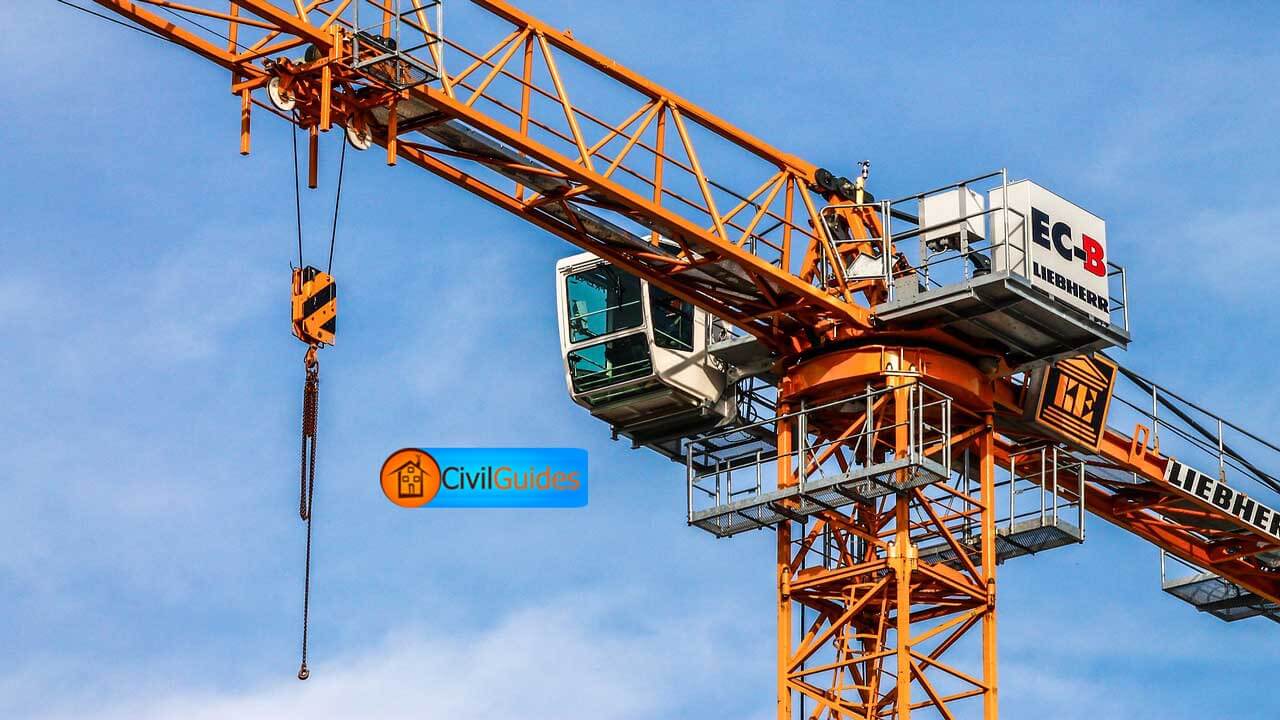 Thanks! for reading. (12 Different Types of Cranes.)
Please, Don't forget to share it with your friends.