A boring wall means a boring life. Whether you're moving into a new house or want to renovate your house, wall decorations should be the first thing that you finish doing. Because you'll need to match every object of your house with the walls.
But before deciding on new decorations for your walls you need to get updated on the latest trends in wall decor that you should follow. As the day changes, people's tastes in interior design change too. A new year means new trends for us to follow. Whether it's a matter of our cloth design or our home design.
So, let's take a look at what are the latest wall decor trends to follow in the year 2023 so that you can decorate your wall precisely.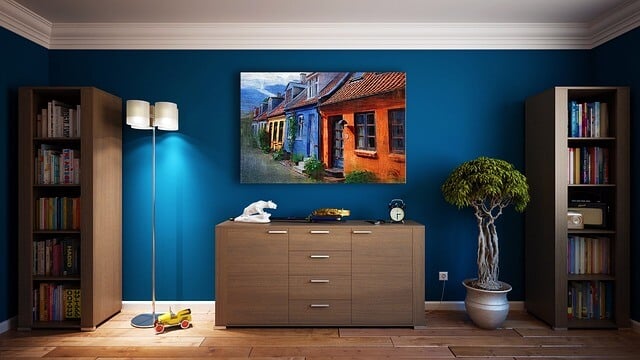 1. Choose Your Favorite Custom Portrait To Hang
Hanging customized portraits on walls is what people like when it comes to decorating walls. You can customize portraits in any design or in any shape you like. You can make portraits that resemble the thing you like most.
If you are fond of cats then you can go with custom cat portraits, You can go with custom dog portraits if you're a dog person. It totally depends on you what you want to make a portrait of to décor your wall.
2. Accent Walls to Create the Vibe
It would be best to make the wall that we first see upon entering a room the accent wall. Accent walls are the life of the rooms. They add detail to the room and change the whole vibe. But the design you'll choose for an accent wall should be soothing and elegant so that it really makes the whole room look peaceful.
If you want your living room to look vibrant and fun then, you should go with bright colors for the accent wall. You can create unique patterns with different paints to make the wall look more jovial.
3. Wallpapers That Will Cheer Up Your Mood
Nowadays, people tend to use wallpapers rather than painting the wall as it's easy and takes less time. You'll find wallpapers with unique designs and patterns pretty much everywhere. Just choose the one you would like to use for decorating your wall.
A common mistake that people make is not cleaning the wall before putting wallpaper on it. It's indispensable to clean the wall properly before putting wallpaper on it or else your walls will get damaged pretty quickly.
4. Hang Tapestry for A Change
Tapestry is slowly taking over the place of wall mates. Tapestry is a fabric that comes in vibrant colors and designs and is pretty easy to hang on the wall. The best place to hang your tapestry is the wall behind your bed.
You can make tapestries that resemble any favorite movie of yours as this is very much in trend nowadays. People choose tapestry over wall frames because they're easy to move and they're washable so you can clean them when necessary.
Tapestry creates an illusion of your room looking cozy and comfortable because they're light in weight. Hanging a tapestry that takes 1/3 of the space on the wall will convert the whole look of your room.
5. Hang Mirrors Anywhere You Can
Worried because your room has less light and looks gloomy? Mirrors are the solutions to your problem. Mirrors reflect more light in a room and brighten up the mood. Mirrors in proper sizes create an illusion that makes your room bigger than it is.
Hang a big mirror in the center of the side wall and watch how much it enlightens up the room. You can hang mirrors that are in unique shapes to give your room an aesthetic look. Mirrors that are framed with wood or white metal will create a soothing periphery in your room.
6. Add Shelves to The Wall
Installing shelves on the wall will be practical and beautiful at the same time. Instead of taking extra space like other wall decors, shelves will create more space for you to put things that were lying here and there on the floor.
You can hang small shelves in unique sizes and create a pattern with them. Shelves that are made of wood are more in trend. You can put antique pieces and plants on the shelves and add more details to the wall.
You can put your favorite books on the wall shelves in your bedroom so that you can grab any book anytime without having to walk to the bookshelf.
To further enhance the visual appeal of your wall shelves, consider adding decorative elements like swords to the display. Placing them strategically amidst the antique pieces and plants can create an intriguing focal point while blending history and modern aesthetics seamlessly. However, it's essential to ensure that the swords are securely mounted and placed out of reach to maintain both safety and aesthetics.
Conclusion:
It's always safe to renovate your house according to the latest trends. But besides following the trend you should also redecorate the house according to your taste and your liking. But when it comes to decorating our walls, we get confused between all the new decoration ideas.
To reduce the confusion, you can research what people are liking nowadays. You can take ideas from the latest trends above and add a little bit of your touch and you'll have a great-looking wall in no time.